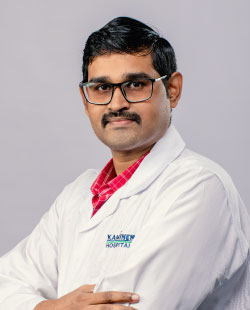 Occupation: Consultant Pulmonologist
Qualifications: MD (Pulmonary Medicine)
About: Dr. Kiran Kumar is a Junior Consulting Pulmonologist at Kamineni Hospital Vijayawada, with a 3+ years of experience. He is interested in Interventional Pulmonology and Airway Diseases.
Years Of Experience: 3+ Years
Expertise: "Well Trained In Dealing With Respiratory Ailments Like COPD ,Asthma , ILD,TB, Bronchiectasis, Pneumonia, Lung Cancer, Abscess Etc Well Trained In Respiratory Intensive Care Unit (ICU) Management, Metabolic Management Trained In Respiratory Procedures Like ICD, Bronchoscopy, Intubation And Ventilators Also Trained In Tuberculosis Training Programs And Management Have Done Research In Asthma"