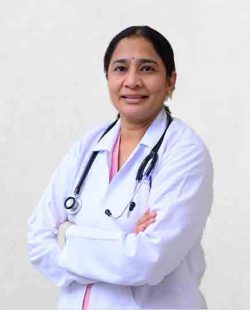 Occupation: Consultant Nephrologist & Transplant Physician
Qualifications: MBBS, MD (Internal Medicine), DM (Nephrology)
About: Dr. Radhika Vemuri is a consultant Nephrologist in Vijayawada. She is currently practicing at Kaminei Hospitals, Vijayawada. Dr. Radhika Vemuri is a qualified Nephrologist in Vijayawada. As a Nephrologist, her area of expertise includes kidney specialist doctor, Chronic Kidney Disease, Renal Transplant, Haemodialysis, Peritoneal Dialysis, CAPD, Diabetes, Hypertension etc.
Years Of Experience: 10+ Years
Expertise: Chronic Kidney Disease Renal Transplant Haemodialysis Peritoneal Dialysis CAPD Diabetes Hypertension Pre Dialysis Management of CKD Nephrotic Syndromes.