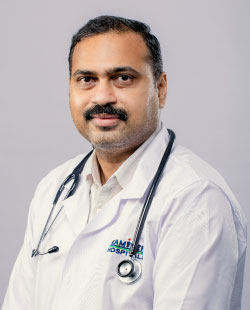 Occupation: Sr. Consultant Neurologist
Qualifications: MBBS, MD, DNB, (DM-Neurology)
About: Dr. Naveen is a Senior Consulting Neurologist at Kamineni Hospital LB nagar, with 15+ years of experience. He has to his credit, multiple presentations in national and international conferences and has been awarded the Best Resident Award for 2008 at Nizams Institute. He has performed IV Thrombolysis for more than 100 brain stroke patients and high volume plasmapheresis for more than 60 patients. He has a special interest in stroke thrombolysis, Parkinson's Disease, Epilepsy Surgeries and Neurocritical Care.
Years Of Experience: Worked As Senior Resident In The Dept Of Neurology Worked As Consultant Neurologist In Aware Global Hospital Working As Consultant Neurologist In Kamineni Hospitals.
Expertise: He Has Performed IV Thrombolysis For More Than 100 Brain Stroke Patients And High Volume Plasmapheresis For More Than 60 Patients. He Has A Special Interest In Stroke Thrombolysis, Parkinson's Disease, Epilepsy Surgeries And Neurocritical Care.